Courtesy Jim Wetnight
As an undrafted tight end out of Stanford in 1993, Ryan Wetnight faced a daunting challenge to make an NFL roster.
Yet the 6-foot, 2-inch, 225-pound Wetnight defied the odds while carving out a productive 8-year pro career—seven with the Bears and one with the Packers.
He caught 175 passes for 1,542 yards and nine TDs in 101 games. The Bears had cut him twice before bringing him back each time. He wore No. 89 with the Bears, a number made famous by Hall of Fame tight end Mike Ditka and later retired in honor of Da Coach. But what Wetnight lacked in talent was made up in perseverance.
"I'm just a guy who will never give up because I am determined to play. I know I wasn't even supposed to make the team," Wetnight told the Chicago Tribune in 1995.
Now, nearly 20 years since his last NFL reception, the 48-year-old Wetnight faces a much tougher challenge—Stage 4 gastric cancer—and he remains determined to never give up.
"I was having a hard time swallowing … food, drinks. This was October of 2017," Wetnight explained as he recalled his initial symptoms. "So I go to the doctor and they do an endoscopy, where they go down through the throat. And they find a mass that is in the upper portion of my stomach that is pushing into the esophagus … the lower portion of the esophagus, which was pinching off of the esophagus. So every time I was eating or swallowing something, it would get to that point and it would get stuck or slowly try to pass that point of impingement.
"So it took a while, but eventually they diagnosed it with cancer. And then 2018 was difficult. I think I was in the operating room 10 times. And I went through eight rounds of chemo, fairly toxic chemo treatment. Long story short, I battled all the way through 2018 to get through all of these different procedures, multiple stays in the hospital, all the chemo treatments. They ended up removing the upper portion of my stomach and the lower portion of my esophagus and then tying it back together."
Wetnight surmised he had gone through the worst of the ordeal in 2018, only to learn that the cancer battle continues.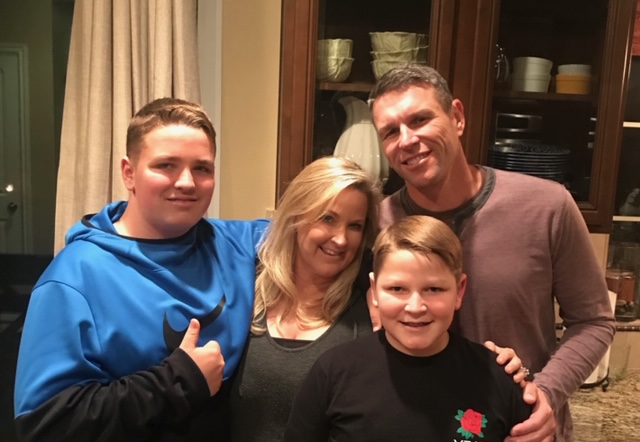 "In January of this year, finally after a long, long 2018, they told me I was cancer-free," Wetnight said from his home in Simi Valley, California. "So I thought the battle was behind me. They beat me up pretty good physically and mentally. But I thought all of that was behind me this year. Then I go in August, just recently in August, sort of a routine checkup, and they tell me they have found another tumor in my stomach. And this tumor is inoperable. So they diagnosed me with Stage 4 gastric cancer. And now we are kind of back to square one.
"So I started doing chemo. I am trying to fight this current tumor, get it to shrink and keep the cancer from spreading anywhere else."
Family, friends and faith have sustained Wetnight throughout this devastating ordeal.
"Certainly we have a belief in God and a faith that there is somebody else controlling this situation," Wetnight said of his wife Stacey and two young sons, Zach and Scott. "It is really taking one day at a time and attacking and overcoming and winning that day. I am very fortunate that I have a great family and a great support network of people in the community.
Related: His brother's death prompted Darren Woodson's focus on cancer
"Both my wife and my kids have been involved with local youth football leagues for many years, and also our high school community, which has been just tremendous support for us. We have really had a lot of people praying for us, helping us, supporting us. It has been good for me because when you are battling you get down on yourself going to the chemotherapy treatments. It's really nice to think about all of those people out there who are supporting me."
Wetnight was a backup tight end with the Bears coached by Dave Wannstedt, usually playing behind Keith Jennings and Chris Gedney. Tragically, Gedney committed suicide last year at the age of 47.
"Unbelievable," Wetnight said. "Chris and I joined the Bears the same year and were together for a few years there before he went on to other teams. And to see what happened with him was difficult to swallow. I know I talked to other guys…Keith Jennings and some other guys I played with and we had a hard time with it. It was really difficult to see somebody go down that road and be in that place to ultimately take your life. That was a difficult thing to experience."
Wetnight knows that both the mental and physical aspects of his life will be supremely tested in the coming months.
"The days are difficult now that I am back on the chemo," he said. "I am coaching. I have always coached my kids. My boys are 12 and 14 and they both play multiple sports, but right now it's football. I have always either coached their teams or helped coach their teams. And I am also helping with our local high school (Grace Lutheran) team to coach them. So that obviously takes up a lot of time and energy, along with working and selling real estate.
"Chemotherapy, this time around, has taken a lot of my energy away. So it has made it difficult for me to participate and coach and work and do the things that I would normally do in the course of a day or a week. So that has been a bigger struggle for me probably this time around than the previous treatment that I went through. The lack of energy has altered my lifestyle tremendously."
Wetnight said he tries not to dwell on the negative while fighting his cancer battle.
"It certainly puts a new perspective on life, there's no doubt about it," he said. "The things that you once worried about aren't so important any more. I have always been a highly-motivated individual that strived to be the best you could be at all aspects of life and certainly at work. Now I am really focused on my family and friends and things that are more important. It puts life in perspective in a hurry and makes you realize what truly, at the end of the day, matters. There's no doubt about that."
Wetnight said he also has been relying on the counsel and support of former teammate Erik Kramer. The former Bears and Lions quarterback has had his own personal battles in recent years, including the loss of a son to a heroin overdose and Erik's suicide attempt.
"Erik Kramer has been really helpful for me," Wetnight said. "All of the things he has gone through in the past…he is actually helping me with the different programs that the NFL offers. So we are in the process of applying to some different NFL programs to help out financially and other ways that they can help. That process is taking place now.
"(Kramer) lives close by so we have remained good friends. He has helped coach my kids and I have helped coach his kids. So I have been through it with him. It is great to see that he has bounced back now and recovered from everything that he went through. He really has a perspective now that he wants to help others. It has been great. He has been a good support person for me."
Wetnight has received cancer treatments from City of Hope and UCLA Health facilities in the past couple of years.
"It's difficult," he said. "This time around, mentally it has been much more difficult for me than the first time. I really felt like the first time around I would fight it, I would conquer it and I would put it all behind me. And it would be done. And now all of a sudden, just like that, it's back. You realize that, wow, this is really a fight for your life. It could be a never-ending fight. Mentally, it's a challenge every day. We've got to really focus and literally get through the day. Being positive goes a long way in helping you heal. Try to be as positive as possible and keep fighting as hard as possible. The battle is really difficult."
Fred Mitchell is an adjunct professor at DePaul University, a former sports columnist with the Chicago Tribune for 41 years, the community correspondent for the Chicago Blackhawks, the author of 12 books and the namesake of the Fred Mitchell Award (www.fredmitchellaward.com)