Courtesy of Houston Texans
HOUSTON – David Quessenberry thought he was sick, feeling "something was off." It was June 6, 2014, during Quessenberry's second minicamp with the Texans, who made him a sixth-round choice in 2013. Texans head athletic trainer Geoff Kaplan sent Quessenberry to see Dr. James Muntz, the team's internist.
Muntz listened to Quessenberry's lungs and heard what he hoped he wouldn't hear.
"Dr. Muntz was the first person who knew," Quessenberry said. "He took one look, took one listen, and he knew I was in pretty serious shape. He didn't tell me what was wrong. He told me, 'We don't know exactly what it is, but we just want to find out.' He was very calm, very collected. He told me later he didn't want to scare me and jump to conclusions."
Tests confirmed Muntz's worst fear: Quessenberry had non-Hodgkin T-cell lymphoma. The offensive lineman was transferred to MD Anderson, recently named the nation's top cancer hospital by U.S. News and World Report.
"I went from being an NFL player to being a cancer patient," Quessenberry said.
Maybe any doctor would have diagnosed Quessenberry.
Maybe any doctor would have found the tumor in Wade Phillips' kidney.
Maybe any doctor quickly would have diagnosed Gary Kubiak with a transient ischemic attack.
Maybe any doctor would have helped save Astros first base coach Rich Dauer's life despite the odds.
Maybe any doctor would have discovered the lymphoma in Andre Hal's armpit and abdomen.
Maybe. . . .
But Muntz isn't any doctor. He was their doctor, the right doctor in the right place at the right time with the right diagnosis.
"Put me down as one of those believers [in Muntz] for sure," said Phillips, now the Rams' defensive coordinator. "He saved my life."
Muntz serves as a team doctor for the Texans, his 30th working in the NFL. He also has spent the past 15 seasons affiliated with the Astros and is in his 25th season with the Rockets, winning a World Series ring in 2017 and NBA championship rings in 1994 and '95. He has worked with other pro sports teams in the city over the years, too.
Geoff Kaplan, the Texans' head athletic trainer, said Houston's professional athletes are in good hands.
"I think one of the important things about Jim is his experience," said Kaplan, the Texans head athletic trainer. "He's been taking care of pro sports teams for over 30 years. That makes him extremely busy, because he's at all the home games, but also extremely valuable because he has perspective that not a lot of other people have. The perspective and experience that he brings is unparalleled."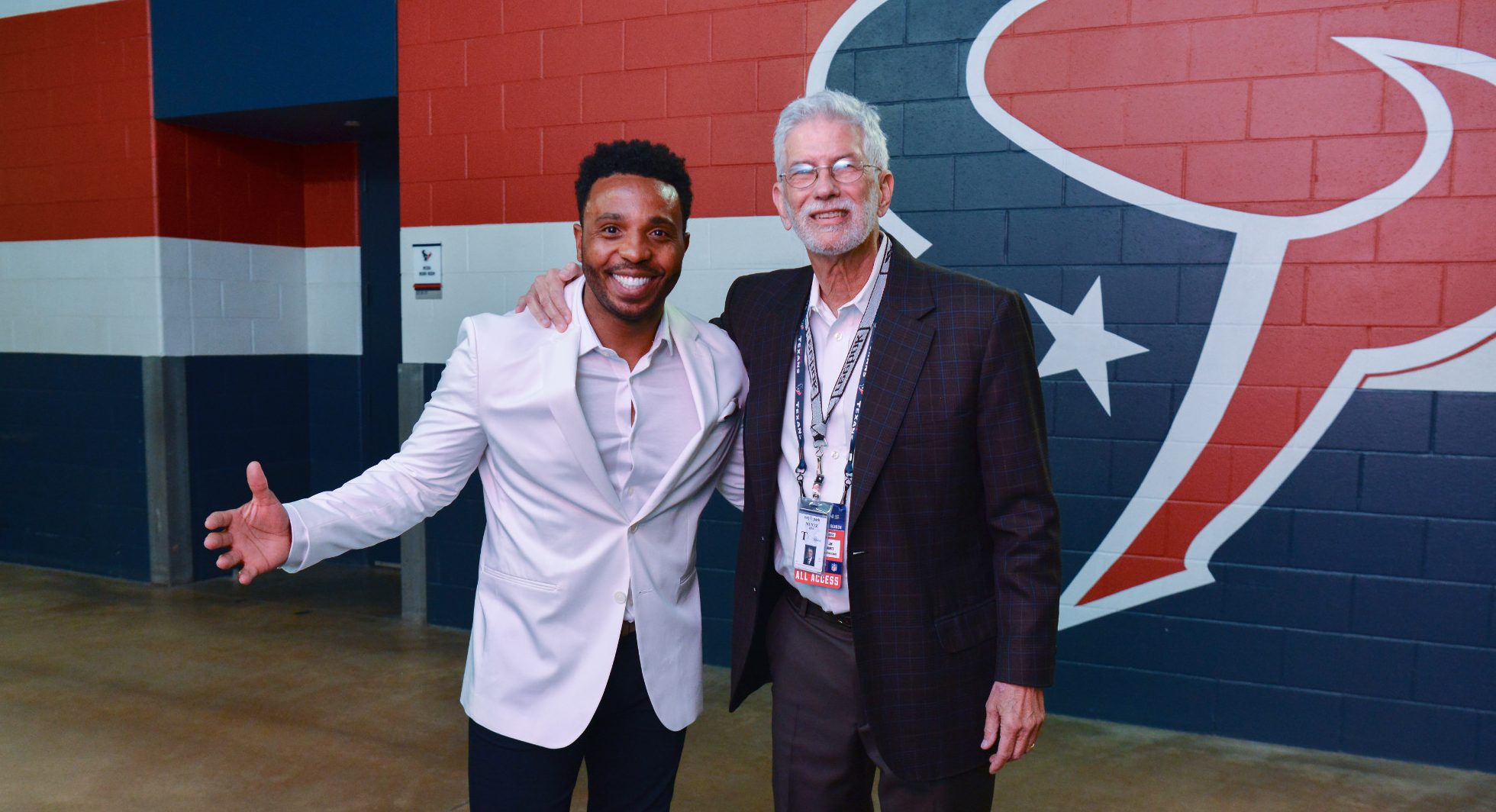 Kubiak jokingly calls Muntz "the celebrity doctor," making sure to mention an advertising billboard for UT Physicians at Houston Intercontinental Airport that features Muntz's face. But Muntz, a 1975 graduate of the Baylor College of Medicine, also has a private practice at the Texas Medical Center in Houston's medical district. Muntz estimates he has between 6,000 and 7,000 patients, seeing 120 of them a week independent of his work with the city's major sports teams.
That means his day starts with a 4 a.m. wakeup call so he can begin hospital rounds before 5 a.m. Muntz saw eight post-op patients on a recent week day. Two hours later, he arrives at his UT Physicians Primary Care office, where 15 patients have appointments before noon.
Muntz doesn't travel with the city's sports teams, but he does attend their home games, so that means working late many days.
He wouldn't have it any other way, and he's supported by an understanding wife and a proficient staff to do what he does and do it well.
"I love what I do," Muntz said. "I enjoy the sports, but I like the people more than the sports. I have an incredibly patient wife [Anne] who lets me do this, who doesn't say no. Probably the most important decision I've ever made was who I married, way more than any school I chose to attend."
Muntz never knows from day to day what he might see. Whatever it is, chances are he's previously seen it and treated it since there isn't much Muntz hasn't seen.
"Houston is a city lauded for its medical community, but there is no finer doctor in the entire country than Dr. Muntz," said Cal McNair, the Texans chairman and COO.  "The Texans are extremely fortunate to have had a physician of his caliber caring for our players for the past 17 years. His knowledge, compassion and dedication to treating athletes at all levels of the Houston sports community has prolonged hundreds of careers, and in some cases, saved lives."
Phillips, the Texans' defensive coordinator from 2011-13, credits Muntz for finding his tumor. Phillips saw Muntz for stomach pain late in the 2011 season, thinking it was something he ate. After examining Phillips, Muntz sent the assistant coach for a scan to be certain.
"They found a volleyball-size tumor on my kidney, and took my kidney and gallbladder out," Phillips said. "I still don't know if it was cancerous or not, but they said it was encapsulated, which meant when they took it out, they took everything.
"So he actually did save my life. He could have said, 'OK, we'll give you some medicine for your stomach ache.'"
Kubiak's emergency was more obvious. Kubiak, the Texans head coach from 2006-13, clutched his head before collapsing on the sideline while walking to the locker room for halftime of a Nov. 3, 2013, game. Muntz, neurosurgeon Dr. Arthur Day, an independent neurotrauma physician, two emergency room physicians, an airway physician, three orthopedic doctors as well as paramedics were on the sideline at the time.
Muntz credits teamwork for Kubiak's quick diagnosis.
"If something bad happens during a game, the amount of expertise available is off the chart," Muntz said. "It's a good place to get sick."
Kubiak went through a battery of tests. It was determined he needed a clotbusting thrombolytic drug for what was thought to be a potentially severe neurological event.
"I had a certain amount of time they could administer it to me," said Kubiak, now a senior personnel advisor with the Broncos. "It's something that they give you when they think you might be having some form of a stroke that basically works like a Drano type of deal. I was working on a timeframe, and he got things in place where I could take it, and I ended up taking that shot. It was a difference for me. I don't remember much, but I remember having to sign for it, and him making me feel good about it."
Sports is not life and death, but what Muntz does is, and his patients trust him with their life.
Muntz's victories come when Dauer, given a 3 percent chance to survive surgery to repair an acute subdural hematoma by one of the neurosurgeons, Dr. David Cech, sends Muntz a video of himself vacuuming two weeks after surgery.  Or when the then-Astros coach brags about eating a fast-food burrito.
"I said, 'Well, if the subdural didn't kill you, the burrito will,'" Muntz said. "He lived through the surgery and the burrito."
Muntz teared up when Dauer threw out the ceremonial first pitch five months later.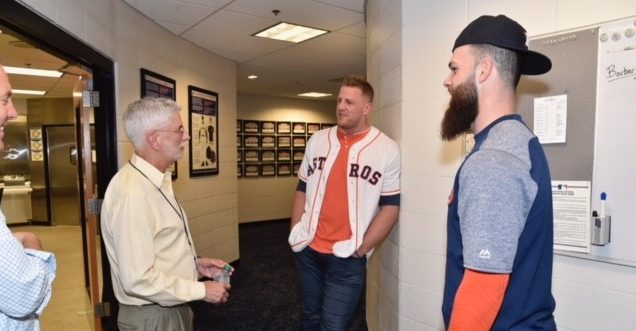 More often, though, Muntz is making his "corny" jokes, trying to elicit laughter. J.J. Watt even signed a jersey for him, saying just that: "Dr. Muntz, your jokes are not funny. Love ya, Buddy!"
"Terrible jokes," said Quessenberry, now on the Titans' practice squad. "They are so bad. But I absolutely love them. I can't get enough of them."
The jokes helped Quessenberry get through the intensive chemotherapy, through the radiation treatments, through losing his hair, losing his strength and losing precious years out of his NFL career.
"The professionalism he showed me is something I'll always remember him by, and I hope he remembers me, too," Quessenberry, 28, said. "He's one of the good ones."
An estimated 80,000 people are diagnosed annually with non-Hodgkin lymphoma, with some 19,000 dying from the disease every year. Hearing the "C" word was one of the worst days of Quessenberry's life, but he returned to the football field in 2017 after a three-year battle.
Hal returned to game action for the Texans on Oct. 21, only four months after announcing his Hodgkin lymphoma diagnosis.
It's seeing Hal and Quessenberry play again, Phillips and Kubiak back on the sideline and Dauer enjoying retirement that makes Muntz's job a job well done.
"It's extremely satisfying to see somebody who is sick, and know that you can do something for them," Muntz said. "I know lawyers and money management guys, and they make money, and a lot of them probably have significant satisfaction in their jobs. But there's no greater satisfaction than seeing somebody in a coma wake up. There's no job to me that could be that satisfying.
"I love what I do, and I'm going to do it as long as I can."
Charean Williams, who writes for Pro Football Talk, became the first woman to win the Dick McCann Award for long and distinguished service covering the NFL.