Getty Images
When Chris Doleman and LaTresa Cunningham were looking for a place to get married in September, the decision was easy.
Last January, the Hall of Fame defensive end was diagnosed with glioblastoma, a brain cancer, and had surgery to remove three tumors. Doleman, who lives in Suwanee, Ga., was hospitalized for five weeks, the great majority of it at Atlanta's Cancer Treatment Centers of America.
Doleman was so impressed with the treatment he received that the couple decided to have the wedding there on Sept. 7. The center's chaplain performed the ceremony and most of the attendees were doctors and nurses.
"It was a great place to go,'' Doleman said. "I couldn't think of another venue to do it at. I did so much healing there. Everybody there cares about how you're doing.''
Doleman, 57, played in the NFL from 1985-99 with Minnesota, Atlanta and San Francisco, making six of his eight career Pro Bowl appearances with the Vikings. Last January, he was making plans to head to Super Bowl LII at U.S. Bank Stadium in Minneapolis, where his name is on display in the Vikings' Ring of Honor.
Suddenly, though, his life changed.
Doleman was playing golf near his home on Jan. 22 when he noticed there was drippage coming out of the left side of his mouth. He thought it might be hay fever when he went to the doctor to get it checked out.
It was much worse.
"When a doctor tells you that you have brain cancer, it changes your whole world,'' Doleman said. "Those are the scariest words that you'll ever hear in your life. When I first heard it, I was so devastated by it I couldn't get any words out of my mouth. How many people do you know who survive brain cancer?''
Doleman had surgery on Jan. 25 at Atlanta's Emory University Hospital to remove one tumor that originally had been located and two others that were found during the procedure. During his five weeks of hospitalization, he lost 40 pounds, dropping to 232.
Doleman, though, has gained most of that weight back and is feeling much better. He admits he "cried like a baby" when diagnosed with glioblastoma, the same cancer that late Arizona Sen. John McCain had, but the support he received from around the NFL soon lifted his spirits.
Doleman gives plenty of credit to Vikings president Mark Wilf and CEO Kevin Warren, who reached out with words of encouragement. Former Minnesota teammates Greg Coleman, Steve Jordan, Henry Thomas and Ken Clarke were among those who visited him in the hospital.
"I'm feeling better,'' said Doleman, who is fifth in NFL history with 150 1/2 sacks and was inducted into the Pro Football Hall of Fame in 2012. "I still have weakness on my left side so my speech is slurred. The left side of my face, my tongue is weak. It makes it sound like I've been drinking all night. But I'm going to whoop this thing.''
Providing plenty of support throughout the battle has been his wife, now known as LaTresa Doleman. Doleman said during the five weeks he was hospitalized she never left his side, sleeping in a chair next to his bed.
The two had met in March 2017. Less than a year later, though, she went from being Doleman's girlfriend to also being what he called his "caretaker.''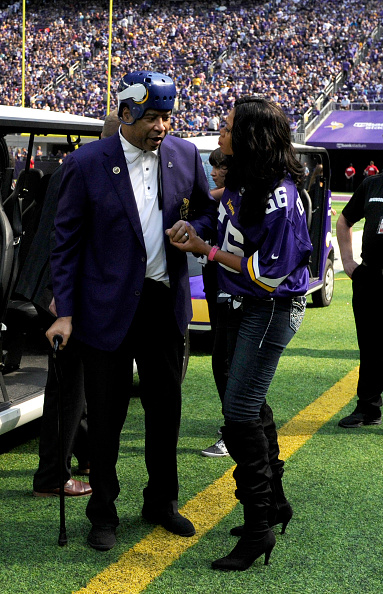 "We've been through a lot in this process,'' she said. "When he first came out of the surgery, he was sleeping so much and he said it was because, 'My brain is healing.'
"At first he couldn't move his left side, but I would take his hands and arms and move them just to get the muscles moving and just to get the blood flowing. And slowly and slowly he was moving his limbs and getting stronger.''
RELATED: Two Bears finding ways to cope with cancer within their families
After a few months, Doleman felt good enough to play some golf. In August, he attended the Hall of Fame induction ceremony in Canton, Ohio, of former teammate Randy Moss.
On Sept. 23, Doleman returned to Minnesota for a game against Buffalo that featured his former coach Dennis Green, who died in 2016, being inducted into the Ring of Honor. On Oct. 14, he was back at U.S. Bank Stadium for a game against Arizona, and blew the Gjallarhorn, a Vikings' pre-game game tradition.
"Let me tell you something,'' Doleman said of seeing so many friends and former teammates. "Just the thought of catching up with everybody pulls you through those dark times."
Doleman walks with a cane and sometimes is pushed in a wheelchair by his wife. Doleman takes anti-seizure medicine twice a day but as an extra precaution when walking he often wears a helmet in case he were to fall.
The purple helmet has on each side Vikings horns, the stickers having been sent to him by the team. He has signed the back, "Chris Doleman. Skol. Vikings. HOF '12.''
"He doesn't even have to wear (the helmet), but he loves wearing it,'' said Doleman's wife.
During his September visit to Minnesota, Doleman saw for the first time the Vikings Museum, which opened in July. He was impressed to see his display in a section devoted to the team's Hall of Famers.
Another section of the museum is devoted to players who wore the six numbers the team has retired. Doleman, who played for Minnesota from 1985-93 and in 1999, has not had his No. 56 retired.
"They need to get a seventh number,'' Doleman said with a laugh.
During that visit, Doleman chatted with Clarke about the three seasons they spent lining up alongside each other on Minnesota's defensive line. Clarke, who also lives in the Atlanta area, has been watching Doleman's recovery from up close.
"It's been a long road, and it's still a long road he's got to go,'' Clarke said. "But he's improved a tremendous amount. He's trying to get back to as much normalcy as he can and so far, so good. He's a fighter."
Chris Tomasson covers the Minnesota Vikings for the St. Paul Pioneer Press.